Frome Men's Shed
Women's Shed
The Frome Women's Shed is open on the 28th May2018
The Frome Women's Shed is for women to make and mend things together, learn new skills, work on their own projects and use their skills for the benefit of the community.
Activities in the Frome Women's Shed will be decided by the members.
At last! The Frome Women's Shed opens weekly on May 21, 9 am until 1pm in the Remakery, at the Welshmill Hub
Note: Stairs - no lift, Sorry.
The Welsh Mill, Park Hill Drive, From, BA11 2LE – If you're parking, please park carefully, and respect local residents.
On Monday 21 May 2018, we had our first Women's Shed meeting in the Remakery at the `Welshmill Hub. A great attendance, with around 30 people joining.

We are OPEN on Bank Holiday Monday, so bring your projects/ideas, or come for tea and a chat , or take part in a fun art project while you work out what you really want to do!
Please note that:
DOUBLE YELLOW LINES have just been laid outside the Hub, so you won't be able to park directly outside.
Parking is possible early on by going about 10 yards further up the hill, and turning into the car park on the left
Parking is available in all the side roads, as long as we don't obstruct driveways and annoy the residents
The Cheese and Grain car park is about 5 minutes walk along the river path.
Hope to see you on Monday!
Bring your projects and let's work out ways in which we can help each other - if necessary ! -to complete them.
The workshop has bench space and hand tools, and we will gradually have access to machine tools , as individuals get trained to use them safely.
Public projects are invited - get in touch here if your community needs benches, boxes, raised beds, signs, curtains, pictures, anything that can be made or helped with, part of our mission is to serve the wider community.
Come along and talk, plan, make, drink tea etc and make friends!
Monday morning has been chosen as it was the most popular time in surveys, but don't lose heart if you wanted evenings - we will work towards that, as we know there is a need.
If you are wanting to join, please download the Membership Form (see below) please print it, and fill it in prior to coming (Bring it along with you). If you could let us know you are coming by email to Women@fromeshed.org.uk. You may like to wait to complete the "Gift Aid" Declaration, to discuss at the first session.
If you are "Just Interested" in the Women's Shed and want to Express an interest click on this link – We will be in touch.
WORKSHOP OUTPUT – 23rd April Meeting

See attached the workshop output from the last meeting.
CONTACT
For further information please contact Ros on 07500-061624 or by email to Women@fromeshed.org.uk
The Frome Men's Shed was opened in August 2014, is open to Men and Women (over 18) but we only have four women members. The Men's Shed now has 76 members, and we have 20-25 attending every week. Click HERE for more details of what the Men's Shed does.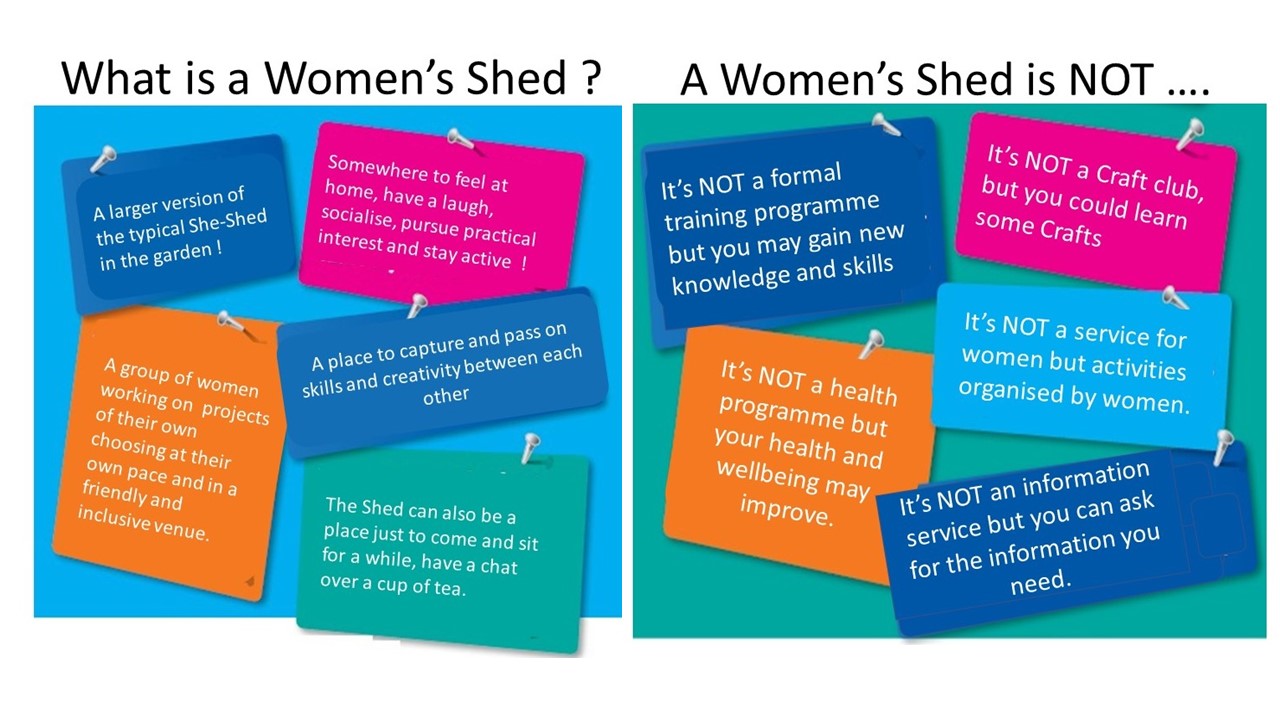 Other Women's Sheds
We have come across 17 Women's Sheds across the UK - We are convinced there are loads more – Please contact us at info@fromeshed.org.uk if you run a Women's Shed not listed here.