Women's Shed

ABOUT US
In the Frome Women's Shed, (the more recent offshoot of the Frome Men's Shed), women meet to make and mend things together, learn new skills, make friends, work on their own projects and on projects that benefit the community. Men are not excluded, and we have valuable help from some of our Men Shedders.
The over-riding purpose of the Shed is social contact, and for forming friendships.
The Shed is open from 9am to 1pm every Monday at the Welsh Mill, Park Hill Drive, Frome, BA11 2LE. See picture below that shows the entrance to the building.
Please park carefully and respect local residents!
For further information please contact Ros on 07500-061624 or by email to Women@fromeshed.org.uk
The Women's Shed has now been meeting for over a year, with a range of activities taking place. Sometimes these are organised and led, and are advertised in advance on Facebook, on the Frome Women's Shed pages.
Some of the projects we undertake are traditionally 'female' ones, but this is no bar to one or two men who have joined us, and who have been seen using sewing machines! There are always some of us busy in the machine room with woodwork projects , and some of the men's shedders generously assist us on occasions with those. Most of the time the members' own projects are carried out, sometimes these are in a group, and sometimes individuals just work side by side - and there is always chatter and laughter in the room.
The most important thing is that people have met each other and made friends, for many there has been relief from stress, and sometimes from isolation, imposed by changing circumstances.
The equipment we have includes sewing machines and some art supplies as well as the workshop tools and benches, and here are some of our activities, many of which are illustrated on our Facebook pages:
Machine sewing
Beautiful hardwood bread and cheese boards
Making quilts for poorly babies
Fiddle mitts for dementia patients
A full size wooden rocking horse
Linocutting and printing
Macrame wall hangings and pot holders
Christmas wreaths with natural materials
Drawing, painting
Whittling
Use of hand tools in woodwork
Use of portable machine tools
Rag Doll making
Bird boxes, bat boxes
Wooden games kits for children to build
Upcycling furniture
Chair caning
Upholstery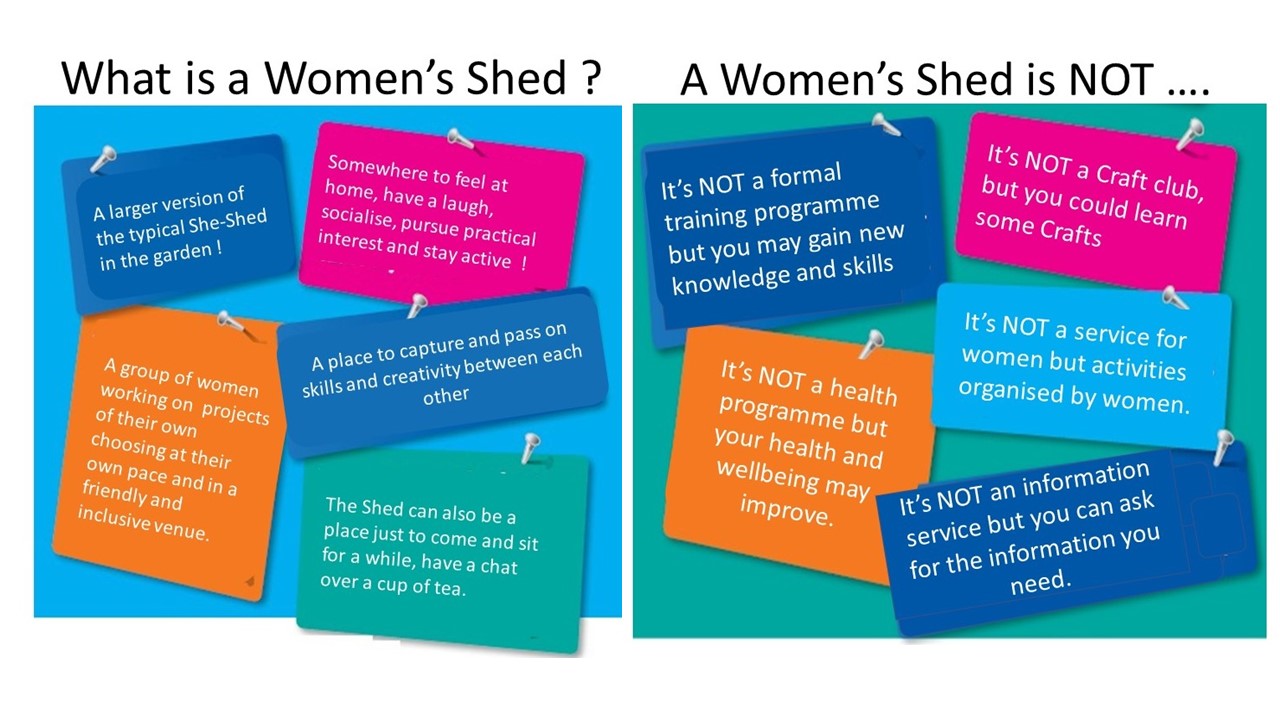 Other Women's Sheds
We have come across 17 Women's Sheds across the UK - We are convinced there are loads more – Please contact us at info@fromeshed.org.uk if you run a Women's Shed not listed here.